ABOUT US
We are experts at converting analog media to digital. We're passionate about preserving photos, slides, home movies and film for the next generation.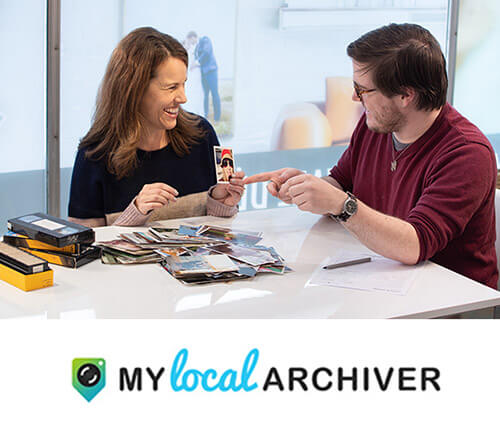 My Local Archiver™ is a network of over 500 professional photo, video and print service providers located around the world. We are photo enthusiasts and expert-level archivists with decades of experience digitizing a variety of physical mediums. We work with ALL (and rare) formats and are highly proficient in converting analog media to digital format. Our objective is to provide premium service and top quality workmanship through frequent quality control checks and by never cutting corners. We are passionate about converting analog media to digital formats and of course, getting your project just right! 
Our ability to provide exceptional results is due to our expertise in color correction, retouching, dust removal, repairs, restorations and a variety of other highly specialized services. We are also experts at archival photo printing, including enlargements. We'll help you create personalized and meaningful keepsakes with your newly digitized images, like photo books, décor, gifts and stationery. Some of us even offer custom framing!
Our organization was created in 1982, with some of our members having been in business for over 100 years! Our greatest advantage is the network itself; we have the ability to collaborate with each other on solutions for tackling even the most challenging projects. We love creative special requests!
Our group is dedicated to preserving your memories for future generations.
Meet our worldwide network of independent local archivists.
Over 500 expert locations in the United States, Canada, Australia, New Zealand, Aruba and Mexico
Keep your memories safe + local!
We never recommend shipping away family archives, treasured photos and irreplaceable home movies. It's too risky. 

Digitize your home movies and photos locally!
Keep your precious memories safe with an archiver in your community, so you are supporting small business and your local economy. We are independent and professional archiving experts who have been carefully digitizing home movies, photos and film for decades. No matter how rare your originals, our experienced technicians will amaze you with their expertise and quality workmanship. We'll collaborate with you to create truly unique finished products that bring you and your family joy for years to come. Give your
home movies and photos
the attention they deserve!